Maya Niethard, MD and Christian Regenbrecht, PhD collaborate in research on sarcomas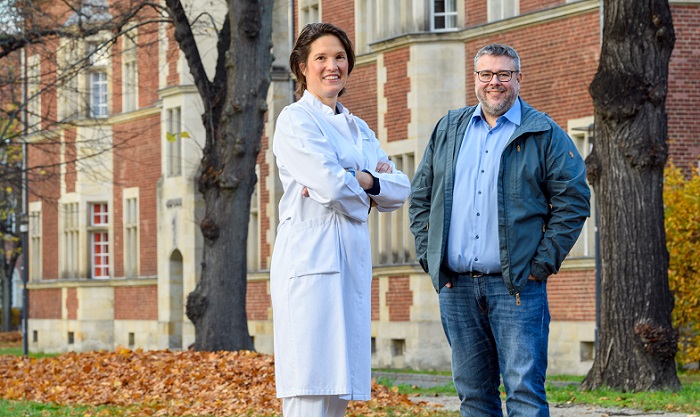 Sarcomas comprise a relatively rare class of cancers, with about 4,000 new cases in Germany each year. Particularly young people are often affected. At Helios Hospital Berlin-Buch, around 600 patients with bone and soft tissue sarcomas are treated every year at the certified Sarcoma Center, which is one of the largest in Germany. A distinctive feature of the Center is its research collaboration on sarcomas with the start-up CELLphenomics. Specializing in 3D cell cultures, the biotech company on the Berlin-Buch campus seeks to make even more precisely tailored treatments available to each individual patient. This is made possible with tests on organoids that are derived from small pieces of the tumor tissue.
The proximity of the research campus to the hospital campus is an important locational advantage. Here, the molecular biologist Dr. Christian Regenbrecht founded the two biotech companies CELLphenomics and ASC Oncology, which are closely linked and collaborate to advance personalized cancer therapies. While CELLphenomics conducts research on 3D cell cultures, ASC Oncology uses tiny, surgically derived tissue specimens of patient tumors to test in advance whether or not a therapy will be effective for the patient.
Using organoids to determine efficacy
For a large number of solid tumors – carcinomas – this procedure is already well established at ASC Oncology. Three-dimensional tissue-derived cell cultures of the tumor are grown from the samples as organoids and extensively characterized using means of molecular biology. All types of therapy can then be tested on the organoids: cytostatic chemotherapies, targeted and antibody-based therapies as well as immunotherapies. A targeted proteomics profile shows at the functional level why a particular drug is effective and another is not. This information is made available to the treating oncologists and helps in selecting the best possible therapy for the patient. Patients are spared ineffective treatments – or they can cope much better with the severe side effects of the cancer treatment, knowing that it will actually help.
Pre-therapeutic testing also possible for sarcomas
However, sarcomas differ significantly from carcinomas in terms of their biology and therapy. In addition, there are over 60 subgroups of sarcomas, of which the same subgroups can react differently to the same drugs. CELLphenomics, in cooperation with Maya Niethard, MD, has therefore conducted pioneering research to enable pre-therapeutic testing for sarcomas. Maya Niethard is a senior physician in the Department of Tumor Orthopedics at Helios Hospital Berlin-Buch and an experienced surgeon at the Sarcoma Center. She utilizes the new method in order to identify the best possible treatment right away. Often, patients' arms or legs are affected by extensive sarcomas, so the time factor can have a direct impact on sparing the patient an amputation. Also, conclusive information that the tumor will not respond to common chemotherapies in the run-up to surgery could be crucial to decide whether or not to operate without delay.
If standard therapies fail, alternative therapies come into play
Only the large number of cases in the Sarcoma Center has made the establishment of the method possible. Together with the pathologist Rica Sauer MD and CELLphenomics, Niethard has optimized the removal of tumor samples and standardized it so that sufficient vital material is obtained for organoid establishment. To establish the reliability of the method, the organoids are currently treated in parallel to the clinical treatment of the patient in the hospital. In individual cases, specifically when standard treatments are no longer effective, ASC Oncology can suggest other possible treatments based on in vitro test results. For example, the drug trabectedin, which is approved for soft tissue sarcomas, has also been shown to be very effective in some patients with bone sarcomas.
Patients who consent to research on their tumor contribute to enabling that the heterogeneity of sarcomas can be modeled and investigated for the first time. Future patients should benefit directly – this is the goal of the ambitious collaboration of Maya Niethard and Christian Regenbrecht.
---
all stories

patient care
---