Bike tours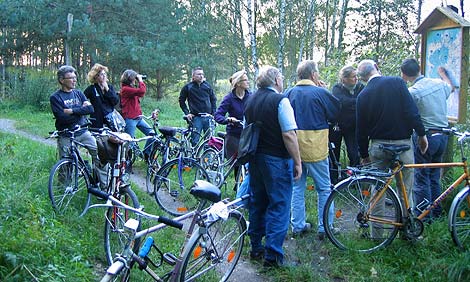 Berlin-Buch is a popular starting point for bike tours to the Feldmark, the Barnim Nature Park, the Schorfheide or the Oderbruch landscape. From the city center, Buch is easy to reach by public transport (S-Bahn) in less than 30 minutes. Many riders start here long-distance tours towards the Baltic Sea. A comfortable new cycle route from Berlin to Usedom leads through Buch.
Selected tours are recommended below.
More GPS-supported bike tours and digital maps for download can be found here:
Along the small river Panke (23 km)
The Barnim Nature Park Meridian (44 km)
The Heidekraut tour (86 km)
Through Barnim on the route to Usedom (83 km)
To the Palace Park Blumberg (28 km)
News

Buch Berlin
$7 million to advance cardiovascular research
Founder Kieback gets T-knife off to a flying start
Eckert & Ziegler: Affiliate Receives Additional NIAID Funding to Advance Pharmaceutical Development
Events

Buch Berlin
22.06.2021, 18:00


Konzept zur Entwicklung des Pankeparks - Vorstellung des Arbeitsstandes
25.06.2021, 21:30


Freiluftkino Buch: "Tschick"
27.06.2021, 16:00


Konzert der Bürgersinfonie im Garten des Bürgerhaus