HELIOS Klinikum Berlin-Buch
HELIOS Klinikum Berlin-Buch is a maximum care hospital with more than 1,000 beds in 24 clinics and centers as well as 6 institutes.

Patients from Berlin and Brandenburg and beyond the region receive a high standard of interdisciplinary medical treatment and patient care, especially in certified centers such as the Breast Center, the Gastrointestinal Center and the Trauma Center. As a member of the Tumor Center Berlin-Buch, the Klinikum provides complex oncological care for cancer patients.

The departments at Helios Klinikum include the Prostate Center, Vascular Surgery, Perinatology, Sarcoma Center Berlin-Brandenburg, the Emergency Center with the Stroke Unit and Chest Pain Unit and HELIOS Hearing Center Berlin-Brandenburg. The hospitals and institutes provide state-of-the-art medicine with the latest generation of medical technology in 20 operating rooms, with 123 monitoring places for intensive care, intermediate care or neonatology and tomotherapy, PET-CT and cardiac MRIs.

Outpatient care and inpatient care on the HELIOS campus have traditionally been intertwined and cooperate closely with each other, so that the patient has access to all aspects of comprehensive medical care in one location. In Berlin-Buch complete medical care is offered in one location.
www.helios-kliniken.de/berlin/
Evangelische Lungenklinik Berlin
The Evangelische Lungenklinik Berlin (ELK) is a widely recognized specialist hospital for acute and chronic diseases of the lung and the thorax and its organs. The interdisciplinary cooperation of all local hospitals and departments is based on decades of experience and continues to evolve with the use of state-of-the-art medical equipment. More than 18,000 patients come to the Evangelische Lungenklinik Berlin every year for outpatient or inpatient treatment.

The hospital is a co-founder of the Tumor Center Berlin-Buch (member of the TumorZentrum Berlin e.V.) and a teaching hospital of the Charité – Universitätsmedizin Berlin.

The Lung Cancer Center of the ELK was certified in 2009 by the German Cancer Society. The Department of Thoracic Surgery is one of the first three hospitals in Germany that were certified by the German Society for Thoracic Surgery in 2008 as "Thoracic Center – Competence Center for Thoracic Surgery". The Center for Respiratory and Sleep Medicine in the Department of Pneumology is accredited by the German Society for Pneumology and Respiratory Medicine (DGP) as respiratory weaning center. Currently there is only one other such center in the region.
www.pgdiakonie.de/evangelische-lungenklinik-berlin/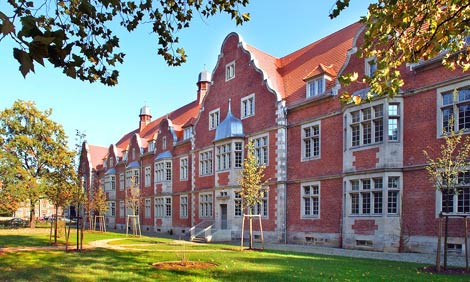 Immanuel Krankenhaus Berlin
Immanuel Krankenhaus Berlin in Buch offers high-tech medicine with a focus on the treatment of rheumatic diseases of the musculoskeletal system. For outpatients, diagnosis and treatment take place in the outpatient center for rheumatology and for inpatients in the hospital with 80 beds for acute treatment.

Patients with rheumatic diseases, including inflammatory rheumatoid arthritis and systemic diseases such as Lupus erythematodes, are treated with state-of-the-art methods, with specialized care and also with alternative naturopathic therapies. A particular focus is on the diagnosis and treatment of infection-related rheumatic diseases such as Lyme arthritis. An interdisciplinary team of specialists for rheumatology, internal medicine and orthopedics provides multimodal rheumatologic complex treatment. This is part of the comprehensive inpatient care which includes an individualized treatment combination of comprehensive physiotherapy, rheumatology occupational therapy, specialized pain management and psychotherapy.

Immanuel Krankenhaus Berlin is a teaching hospital of Charité – Universitätsmedizin Berlin and a cooperation partner of the German Rheumatism Research Center and the German Rheumatology Competence Network. As founding member of the Lyme Disease Initiative Berlin-Brandenburg, Immanuel Krankenhausl Berlin actively supports education about Lyme disease, the cause of Lyme arthritis.
berlin.immanuel.de/abteilungen/rheumatologie-und-klinische-immunologie/patienten/am-standort-buch/
Tumor Center Berlin-Buch – Interdisciplinary Association
HELIOS Klinikum Berlin-Buch is associated with the Evangelische Lungenklinik Berlin (ELK – formerly FLT) in the Tumor Center Berlin-Buch.
News

patient care
In pursuit of the origin and role of ecDNA
How does cancer develop and how does it progress? Dr. Anton Henssen from the Experimental and Clinical Research Center (ECRC) wants to find out more about circular DNA in order to use its cancer cell-...
more ...
Christopher Baum chosen to head the BIH
Events

patient care
28.10.2020, 09:00


DIGITALE LIFE SCIENCES – Workshops zu den Grundlagen der Bioinformatik und zum Labor 4.0
06.11.2020, 09:00


WEITERBILDUNGSTAG LABOR 4.0 FÜR TECHNISCHE ANGESTELLTE UND LABORANT*INNEN
09.11.2020, 09:00


Fachkraft für Molekularbiologie (TÜV)