Assistant Professor Ralf Dechend, MD, and Susann Knöfel help pregnant women with hypertension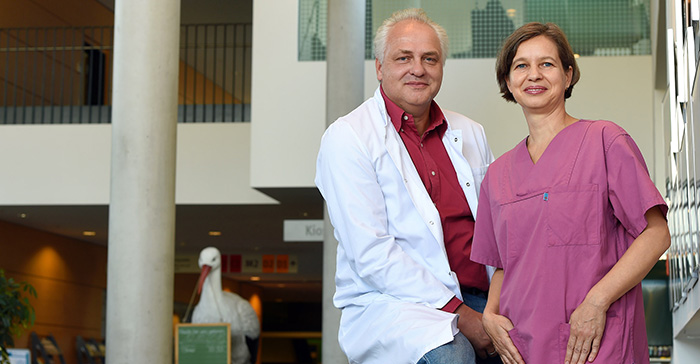 In the level 1 perinatal center of HELIOS Klinikum Berlin-Buch, the midwife Susann Knöfel often cares for pregnant women with high blood pressure (hypertension), which may be indicative of a preeclampsia. Preeclampsia, a special form of hypertension, can endanger the expectant mother and her unborn child to such an extent that premature delivery – sometimes even before week 27 – is inevitable. Thus, preeclampsia is one of the most common causes for maternal and fetal morbidity and mortality during pregnancy. In this case, the obstetrics team works closely with the specialist Dr. Ralf Dechend of the Department of Cardiology and Nephrology. The diagnosis and treatment of hypertension and especially preeclampsia during pregnancy are complex and require an interdisciplinary approach from the outset. Not infrequently, preeclampsia leads to severe long-term health consequences such as a very high risk of heart attack. From the very beginning, therefore, Dr. Dechend participates in the treatment of the patients, including intensive follow-up care in the years after delivery.

If preeclampsia occurs, this means a difficult balancing act for everyone involved, since there is currently no specific therapy. In the early weeks the concern for the baby predominates, which may have to be delivered too early, and in the later weeks the concern is for the mother's health. "The right moment for an intervention is still difficult to determine," said Susann Knöfel.

To change this in the future is one of the reasons why Dr. Dechend has specialized in preeclampsia also as a scientist. His research at the Experimental and Clinical Research Center of the Charité and the Max Delbrück Center for Molecular Medicine takes up 40 percent of his work time. Using state-of-the-art molecular biological and genetic methods, his research group studies how the immune system and inflammatory responses contribute to vascular and organ damage in hypertension during pregnancy. Preeclampsia is a main focus of his research. The search for the causes of the disease has already provided important insights: An activating autoantibody was found in preeclampsia patients that does not occur in healthy pregnant women. This antibody is directed against the angiotensin receptor which regulates blood pressure in the vessels. In in vitro studies using molecular biological methods, the Buch researchers were able to demonstrate that the autoantibodies alter cells in such a way that pro-inflammatory and growth processes are activated.

In advanced training courses, Dr. Dechend enables the midwives and nurses of the obstetrics department to learn about the latest findings on preeclampsia. Thus, the team is well prepared.
---
all stories

patient care
---